DRMetrix overview for Agencies




DRMetrix helps agencies to improve the effectiveness of television campaigns by providing insights that can't be found anywhere else. As a competitive media research system, AdSphere™ was developed to provide a window into the world of accountable television advertising. The foundation of any successful campaign starts with creative that delivers measurable results. AdSphere™ will show you what creative approaches are delivering the best results across 190 industry categories. AdSphere™ has tracked over 163,477,060 airings across 136,831 accountable creatives since it was deployed back in 2014. Today, AdSphere™ tracks accountable campaigns on over 140+ networks keeping track of best performing networks and dayparts with deterministic data insights that go far beyond traditional GRPs.

For more information on how AdSphere™ can help your agency to increase the ROI and KPIs of your television campaigns, please read the following article: GRPs Take A Backseat To New Metrics.



A View Into Television Campaigns like no other

We know you work hard to optimize your client's campaigns. Sometimes that entails using different 800 numbers or web based promotion codes to measure consumer response and resulting ROI down to the creative, network, and daypart level. With different air dubs going to different networks, things can sometimes go wrong. At your moment of need, you can turn to AdSphere™ to answer all of these critical questions:


| | |
| --- | --- |
| 1 | Did the spot, 5 min, or infomercial creative really run? |

| | |
| --- | --- |
| 2 | Were there any audio or video problems with the airing? |

| | |
| --- | --- |
| 3 | Was the 800 number or promotion code in the airing correct? |

| | |
| --- | --- |
| 4 | Did a competitor's spot run in close proximity? |

| | |
| --- | --- |
| 5 | Did the spot clear in the correct break type? |

| | |
| --- | --- |
| 6 | Was the program description correct? (for infomercials) |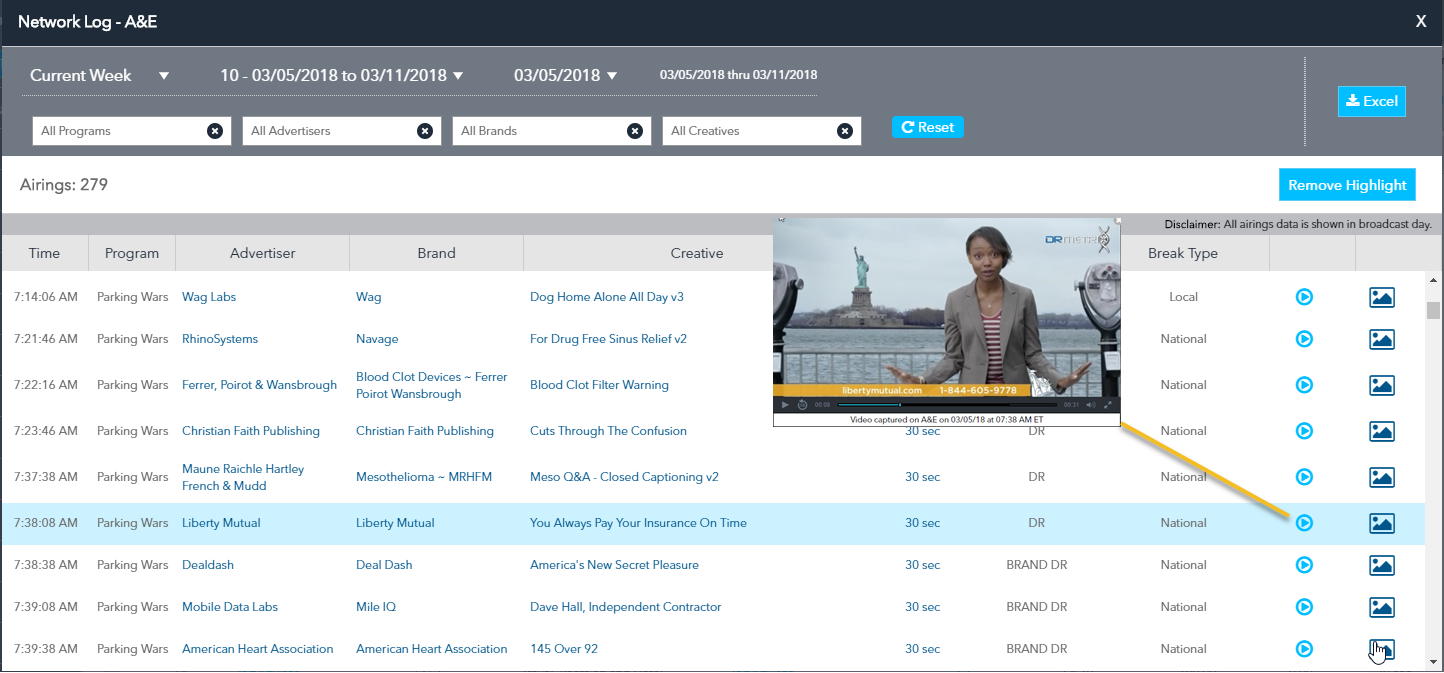 Real Time Airing Detections

AdSphere™ is the only system on the market that allows you to pull down spot, 5 min, and 28.5 minute airings within 30-45 minutes of actual airtime! Get complete airings data on any brand or creative running on over 140+ networks including clickable airing level playback link, program descriptions, break type, 800 number, URL, promotion code, and much more.



Discover AVS™ (Airing Verification Service)


Have airings data automatically delivered to you for any campaign in the industry. Receive airings data via email, FTP, or on a more real time basis via API. AVS™ and API usage comes bundled with AdSphere allowing you to automate delivery of airing data for any and all creatives for up to 20 brands a year. AVS™ empowers near real time attribution, competitive analysis, and more!

To learn more about AVS™ click here



Tracking & Alerts

For agency business development and research, Adsphere™ makes it easy to keep up to date on all the new advertiser and brands being launched on television across 190 industry categories. Schedule daily or weekly email alerts for any categories, networks, advertisers, or brands you wish to monitor.







Global Search

Find any advertiser or brand in seconds and gain access to all current and historical creatives.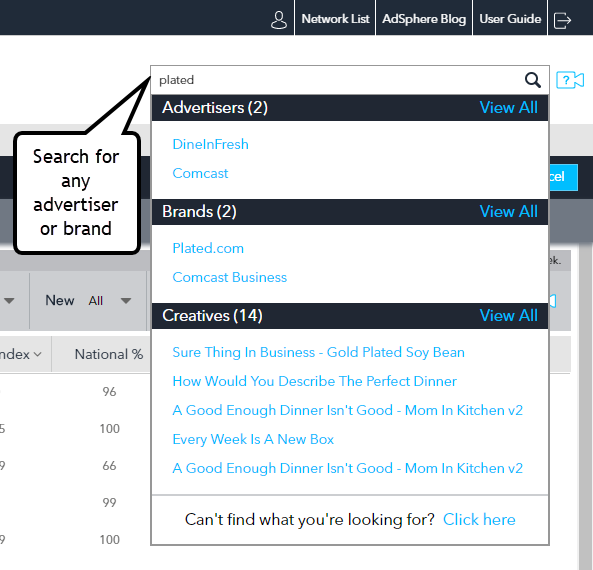 The Opportunities

For agency business development, AdSphere™ has built the industry's largest advertiser contact database complete with phone, email, and social media links. It's easier than ever before to identify, qualify, and contact these valuable targeted prospects.






Creative & Media Research Redefined

In the direct response television industry, creative success is measured each and every day. Advertisers are constantly investing in new creative in hopes of increasing their television advertising ROI and KPIs. Many DR advertisers use creative variations (different 800 numbers and/or web promotion codes) to accurately track both creative and media performance. Adsphere™ is the first television research system that allows you to segment and study campaigns that use DR variations. Measured DR creatives and network/dayparts that don't perform well are quickly discontinued to the favor of better performing ones. This intelligence is unlocked in AdSphere™ creating valuable insights as to both creative and media performance for 17,209 brands.

DRMetrix created Adsphere™ as the first television research system designed to identify all new brand/direct and direct response creative tests. Once identified, all airings of these creatives are tracked using state-of-the-art automated content recognition (ACR) across 140+ networks monitored by AdSphere™. The end result is the industry's most comprehensive database of DR creative with complete airing detail.

As an agency creative and/or media professional, you have access to review all of these creative tests with insight into which have been successful and which have not. Imagine being able to research any industry category and quickly determine the most effective creative and media approaches used to date while also knowing which approaches to avoid. All of this and more is possible thanks to AdSphere™



Airing Frequency Timeline

A world of creative insights await you as you explore AdSphere™ airing frequency and spend timelines at the creative level to determine whether a creative is at the beginning or end of its life cycle. Dive into network details to see the airing frequency by daypart for both national and DPI break types. There's never been a research system that speaks the language of direct response like AdSphere™.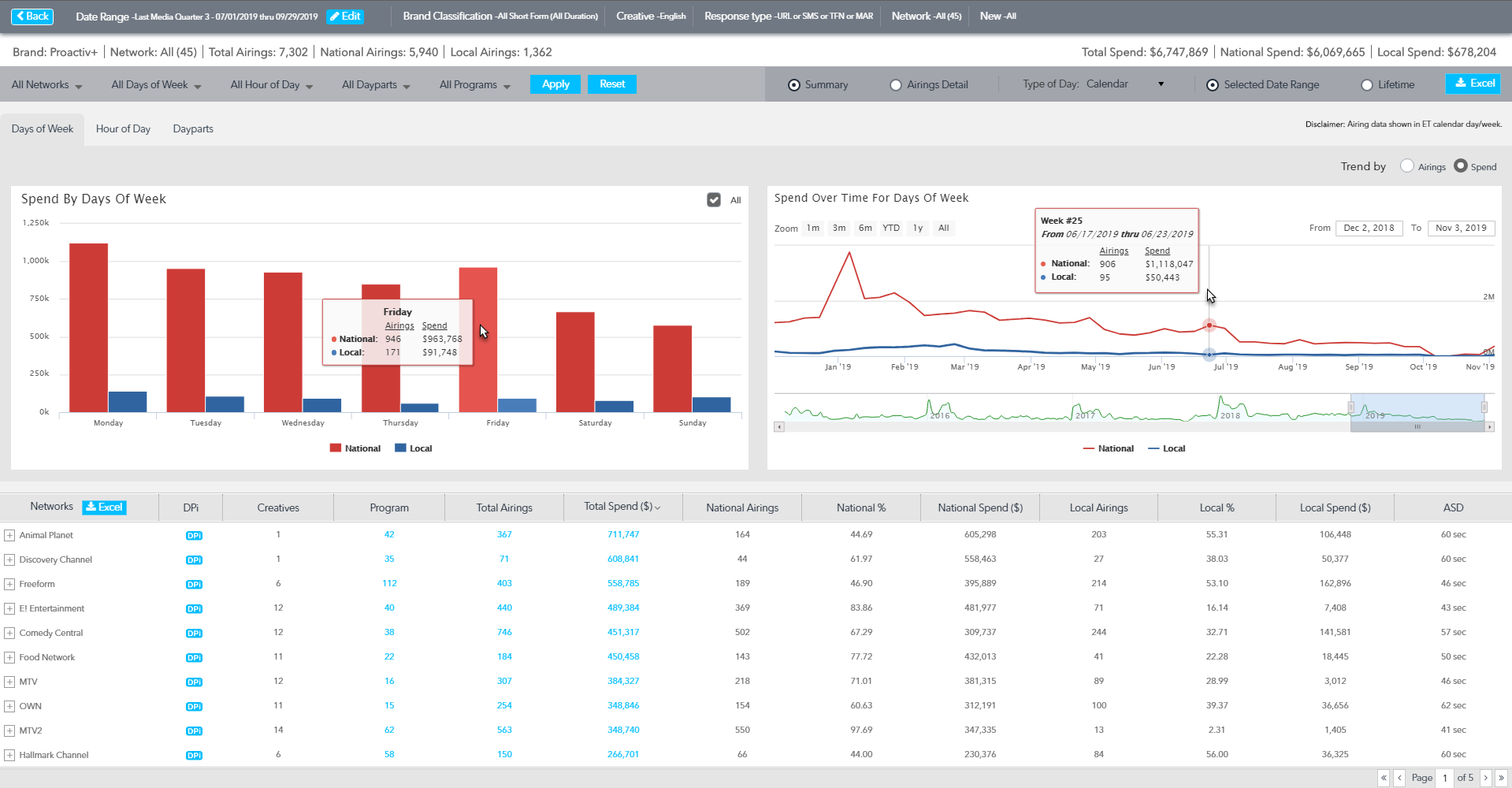 Ranking Reports

See which advertisers and brands have the highest schedule valuation for any date range, industry category, and more. Drill down to quickly see the top brands and creatives and analyze both creative and media executions.







But Wait, There's More!

Let us share AdSphere™ with you and your team for two weeks at no cost! Get started by scheduling a screen share demonstration today by clicking here.




Return to DRMETRIX Home page